Wally was an 'old timer' who lived in Tombstone Arizona. On September 10th, 1842 Wally was awakened from his sleep by the arrival of Sir Trancelot and his steed Frightmare in town. Still wearing his nightgown and cap, Wally ran into the saloon to warn Marshal Clint Kong about the stranger who didn't seem to have no skin and was carrying a riffle bigger than a buffelo gun.
That night, Marshal Clint disappeared after going to face the stranger and was replaced by an 'evil dog' that only came out at night. All the villagers of Tombstone soon left town, with the exception of old Wally, who stayed behind what had now become a ghost town.
Personality
Edit
Appearance
Edit
He wore a cowboy hat and clothes during the day and a pink nightcap and matching gown during the night.
Wally made his only appearance in the episode Like Father Like Son.
Appearances
Edit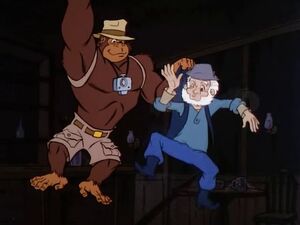 Ad blocker interference detected!
Wikia is a free-to-use site that makes money from advertising. We have a modified experience for viewers using ad blockers

Wikia is not accessible if you've made further modifications. Remove the custom ad blocker rule(s) and the page will load as expected.