Lookout was stationed in the crows' nest on the Ghost Ship belonging to Captain Harpoon. As part of Harpoon's crew, he made the entire galaxy unsafe sometime in the near future.
It was Lookout's job on the ship to inform the Captain and the other pirates as soon as they were arriving at one of their locations, as well as the arrival of other spacevaring vessels.
Lookout later joined Long John Scarechrome's pirate crew aboard the Ghost Galleon, where he served a similar purpose. And was also conjured up aboard the sunken pirate ship Lucky Lady by Long John.
There was at least one exact double for Lookout serving in Harpoon's pirate crew, wearing the same clothes and using the same voice. This double at one point also used a spyglass to inform Captain Harpoon of the Ghost Ships immediate surroundings. However, the pirate referred to as Lookout remained stationed up in his crows' nest up until he was shot down by the Ghostbusters.
Lookout first appeared in the episode The White Whale.
Appearances
Edit
The White Whale (voiced by Lou Scheimer)
A Cold Winter's Night (voiced by Pat Fraley)
Pretend Friends (non-speaking role)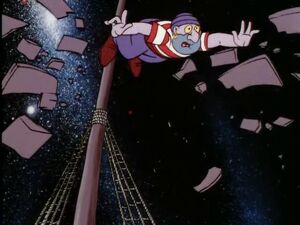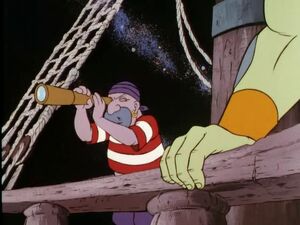 Ad blocker interference detected!
Wikia is a free-to-use site that makes money from advertising. We have a modified experience for viewers using ad blockers

Wikia is not accessible if you've made further modifications. Remove the custom ad blocker rule(s) and the page will load as expected.