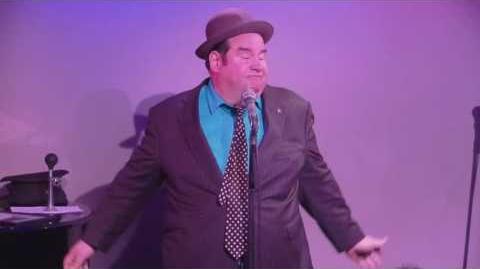 Larry Storch (January 8, 1923) is an American comic, actor, and voice acting. he is best known for his work on F-Troop series which ran from 1965-67 that made 65 episodes. Storch is currently in semi-retired, he does keep up with fans on his myspace page.
Ghostbusters Related
Edit
Larry Storch took on the role as Eddie Spenser, however the character's name is misspelled in the intro credits as Eddie Spencer.
List of works
Edit
The Prince Who Was a Thief (1951)
Gun Fever (1958)
The Last Blitzkrieg (1959)
Who Was That Lady? (1960)
40 Pounds of Trouble (1962)
Car 54, Where Are You? TV Series (1962-63)
Captain Newman, M.D. (1963)
Sex and the Single Girl (1964)
Bus Riley's Back in Town (1965)
The Great Race (1965)
That Funny Feeling (1965)
F Troop TV Series (1965-67)
The Great Bank Robbery (1969)
Airport 1975 (1974)
Journey Back to Oz (1974) (Voice only)
The Ghost Busters TV Series (1975-76)
The Happy Hooker Goes to Washington (1977)
Jack Frost (1979) (Voice only)
Without Warning (1980)
S. O. B. (1981)
The Flight of Dragons (1982) (Voice only)
Sweet 16 (14-Jul-1983)A Fine Mess (1986)
I Don't Buy Kisses Anymore (1992)
The Silence of the Hams (1994)
Ad blocker interference detected!
Wikia is a free-to-use site that makes money from advertising. We have a modified experience for viewers using ad blockers

Wikia is not accessible if you've made further modifications. Remove the custom ad blocker rule(s) and the page will load as expected.