Humberto de la Torres was the son of Spanish farmer Ramon de la Torres and his wife Emelita. Humberto loved to read from his favorite book, Don Quixote by Miguel de Cervantes.
When a three-man biker gang consisting of Black, Red & Yellow tried to scare the De La Torres family off their land, they found protection from the ghosts of Don Quixote and Sancho Panza.
The Ghostbusters were called in by wealthy businessman Enrique Sandoval to get rid of the ghosts. But Humberto was certain that the ghosts of Don Quixote and Sancho Panza were there to help his family. Ghosbuster Eddie Spenser Jr., who has also been reading Cervantes' novel just before they were called to Spain, also believed in Quixote's innocense.
Eventually the Ghostbusters and the literary ghosts teamed up to defeat the biker gang, who revealed themselves to be working for Sandoval. The businessman was after the cover mine hidden beneath the De la Torres' land.
Suddenly finding themselves wealthy landowners, Ramon was overjoyed that he was now able to afford a good education for his son. Humberto himself asked Don Quixote to autograph the book of his adventures for him before leaving.
Humberto de la Torres first appeared in the episode The Ghost Of Don Quixote.
Appearances
Edit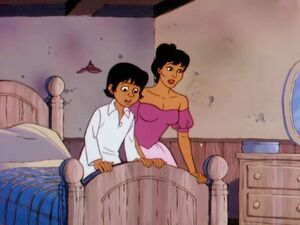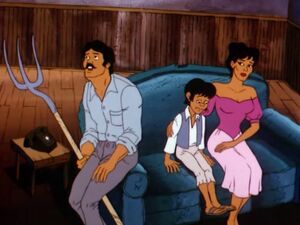 Ad blocker interference detected!
Wikia is a free-to-use site that makes money from advertising. We have a modified experience for viewers using ad blockers

Wikia is not accessible if you've made further modifications. Remove the custom ad blocker rule(s) and the page will load as expected.