Beast was a member of the 'Terrible Three', together with Beetle and Beak. As a trio, they were not known for doing a good job, and after they failed to capture young Corky and Tony, who were tresspassing in Hauntquarters, Prime Evil vowed to turn the three of them into the 'Terrible Six'.
Beast makes his only appearance in the episode The Fourth Ghostbuster.
Appearances
Edit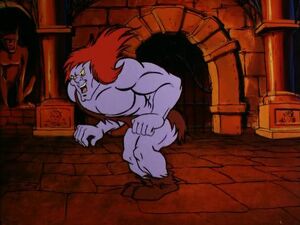 Ad blocker interference detected!
Wikia is a free-to-use site that makes money from advertising. We have a modified experience for viewers using ad blockers

Wikia is not accessible if you've made further modifications. Remove the custom ad blocker rule(s) and the page will load as expected.