Automatic Bananapeeler

peels bananas automatically

Appeared in
Ghostbusters

Automatic Bananapeeler was a device Tracy the Gorilla had been tinkering on for a long time. Unfortunately, he was never able to get just right.
It was an elaborate machine with a banana shaped handle that included every aspect from planting banana seeds in a pot, which grew into a tree instantly, the bananas on which would be plucked and peeled by two mechanical arms. It was in this final stage that never seemed to work out, as the peeled banana would slip out of the mechanical hands into an unsuspecting bystanders face, or the empty bananapeel would be dropped in front of somebody's feet.
Tracy carried the entire elaborate machine with him in his Ghostbuster Backpack and used it to escape from Long John Scarechrome in the Caves of Doom on Planet Doom. Despite being a ghost, Long John slipped on several of the machine's discarded bananapeels, giving the Ghostbusters and Jessica Wray enought time to exit the caves before they collapsed.
The Automatic Bananapeeler was first used in the episode Maze Caves.
Appearances
Edit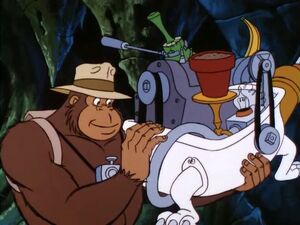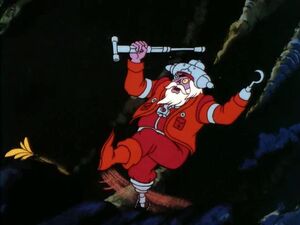 Ad blocker interference detected!
Wikia is a free-to-use site that makes money from advertising. We have a modified experience for viewers using ad blockers

Wikia is not accessible if you've made further modifications. Remove the custom ad blocker rule(s) and the page will load as expected.