Amanda Ricer was the cute and lovely daughter of Dr. Ricer, an inventor who had been designing and building an Ultrasub for twenty years. Next to playing with her dolls, Amanda had invented a pretend friend called 'Gagoo' with whom she spoke almost constantly. This annoyed her nextdoor neighbor, a boy named Alan to no end.
When the Ultrasub was stolen by Apparitia and Long John Scarechrome on the night before it's launch, Amanda managed to sneak aboard just in before it left dock. Together with her pretend friend, she wanted to stop the ghost from misusing her fathers invention. And when both of the ghosts stepped out of the sub to face the Ghostbusters, Amanda managed to hide the vehicle in friendly Mr. Clam.
After the ghosts were defeated, Amanda was reunited with her father, and Alan had developed a better understanding of Amanda's need to have a pretend friend.
Amdanda made her only appearance in the episode Pretend Friends.
Appearances
Edit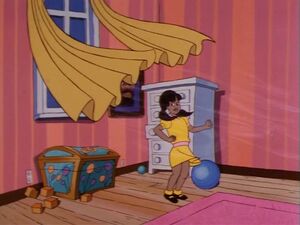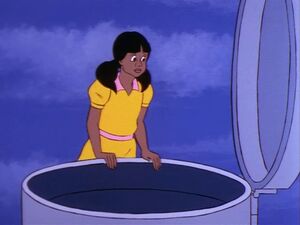 Ad blocker interference detected!
Wikia is a free-to-use site that makes money from advertising. We have a modified experience for viewers using ad blockers

Wikia is not accessible if you've made further modifications. Remove the custom ad blocker rule(s) and the page will load as expected.